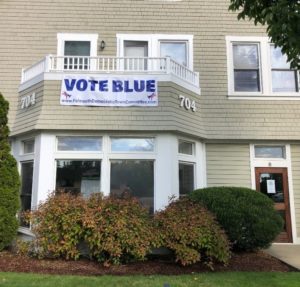 Our favorite color is Blue! Please support the FDTC in 2022 and keep the Blue Wave rolling! Our programs are free and open to the public, and members are requested to pay nominal dues of $25 for members and $35 for elected members each year.
In 2022, the FDTC:
Showcased candidates running for office in 2022 from Governor and Lt. Governor to County Executive, County Sheriff, District Attorney and State Senator and Representative;

Coordinated fundraising and other grassroots efforts for canvassing, visibility standouts, phone banking, and post card writing with local and state campaigns.

Provided a spotlight for community non-profit and grassroots organizations on important issues like child care, climate change, and more.

Donated to state and regional candidates to reinforce our mission to turn red states blue and keep blue states blue.

Opened Falmouth Dems Campaign Headquarters at 704B Main Street.

Continued the recruitment search for candidates to represent Falmouth districts.
Please take a moment to make your online dues payment today, by clicking on the secure link to ActBlue here; use the button below, or by writing a check payable to the FDTC and mail it to:
Falmouth Democratic Town Committee
P.O. Box. 312
Falmouth, MA, 02541
Thank you for helping to make FDTC's work possible!
Sincerely,
Scott Simenas, Chair
Rosemary Dreger Carey, Vice-Chair
Join or Continue Your Membership